Location
Schlossgartenstraße 7, D-64289 Darmstadt, Germany
The 'Atoms Photons Quanta' group is located with other experimental and theoretical groups of the Institute of Applied Physics in building S2|15 at the campus Stadtmitte. For room numbers please see our list of contacts .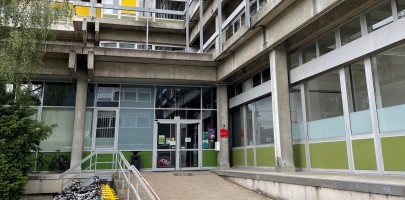 How to reach us
If you arrive at Frankfurt airport:
The most simple and fastest connection from Frankfurt Airport to Darmstadt is the HEAG Airliner. The HEAG Airliner is a shuttle bus service directly to/from Darmstadt. Please exit the bus at Darmstadt convention center (Kongresszentrum), from where it is a few steps to the university campus right across the street.
For more information and a time table of the HEAG Airliner click here. The bus ride takes about 25 minutes. Alternatively you can take a train from Frankfurt airport train station ("Fernbahnhof") to Darmstadt main station ("Hauptbahnhof"). For the train schedule see the website of the Deutsche Bahn. To make your way from the train station to the institute see next section below.
If you arrive at Darmstadt main railway station:
There are many tram and bus lines from the main station to the city center. Take e.g. tram line 3 (direction "Lichtenbergschule"), tram line 5 (direction "Kranichstein"), bus line D (direction "Ostbahnhof"), or bus line F (direction "Fasanerie"). Leave the bus or tram at "Luisenplatz" or "Willy-Brandt-Platz". From there, our institute building (S2|15) is within walking distance. For maps of the university campus ("Stadtmitte") and building S2|15 (i.e. location of our institute) please click here.
If you travel by car:
By car you can reach Darmstadt, e.g. via motorways A5 and A67. Leave the motorway at exit "Darmstadt/Griesheim" and follow the signs "Innenstadt" or "TU Stadtmitte". For a map, please click here. We note, that public parking is a problem in the city center of Darmstadt. Thus, please don't hesitate to give us a call prior to your arrival and we'll arrange for parking next to our institute.
We have to point out, that the parking garage 'Parkhaus Ruthstraße' is not accessible to visitors.